Natuurlijk kun je Disney Plus in je browser kijken op je MacBook of iMac, maar de gratis app Clicker for Disney+ werkt vele malen beter en zit vol met handige functies.

Lees verder na de advertentie.
Clicker for Disney+ nu gratis te downloaden
Ondanks de populariteit van Disney Plus (ook in Nederland) is er nog geen officiële Mac-app om het aanbod van de streamingdienst te bekijken. De enige optie van Disney zelf is via je webbrowser een serie of film starten. Dat werkt prima, maar de nieuwe app Clicker for Disney+ laat zien dat het beter kan.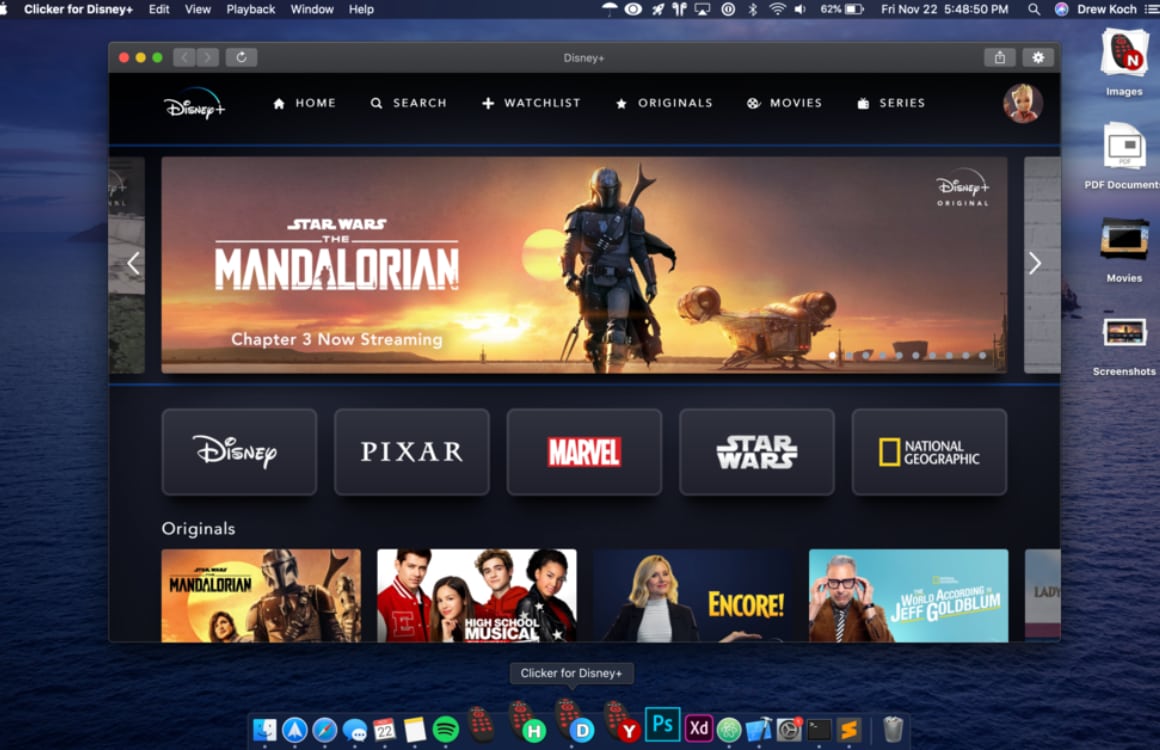 De gratis app geeft de streamingdienst een vast plekje op je Mac, zodat je hem bijvoorbeeld ook in je Dock kunt zetten. Clicker ondersteunt de picture-in-picture-functie van macOS, zodat je het scherm kunt verkleinen als je ook iets anders aan het doen bent op je Mac.
Touch Bar-ondersteuning is leuke extra
Daarnaast ondersteunt Clicker de Touch Bar, zodat je snel door een aflevering kunt scrollen, ondertitels kunt aan- en uitzetten en meteen naar de picture-in-picture-modus schakelt. Door de app schermvullend te maken, kun je bovendien gemakkelijker door het aanbod van de dienst scrollen.
De ontwikkelaar van Clicker maakte eerder al een soortgelijke app voor Netflix, die nog steeds populair is en bekend staat als één van de beste manieren om Netflix op je Mac te bekijken. Net als de Netflix-app is ook Clicker for Disney+ voorlopig gratis te downloaden via de website van de ontwikkelaar. De website doet vermoeden dat de prijs later omhoog gaat naar vijf dollar.