Heb je een iPhone of iPad die ook regelmatig door je kinderen wordt gebruikt, dan kan het handig zijn om bepaalde websites te blokkeren. In dit tip-artikel lees je hoe je dit doet.
Zo kun je websites blokkeren in Safari
Het is al enige tijd mogelijk om op een iOS-apparaat in te stellen welke websites wel of niet bezocht mogen worden met Safari. Dit is een handige optie wanneer je kleine kinderen hebt en ze wil beschermen tegen alles wat op het internet te vinden is.
Lees ook: 5 tips om je iPhone en iPad kindvriendelijk te maken
Het kan natuurlijk ook zijn dat je gewoon niet wil dat bepaalde websites bezocht kunnen worden, omdat ze bijvoorbeeld onveilig zijn of expliciet materiaal bevatten. Het blokkeren van websites in Safari is vrij simpel, maar je moet er wel een aantal stappen voor doorlopen. Hieronder leggen we uit hoe het werkt.
Open de Instellingen-app op je iPhone of iPad en kies voor 'Algemeen';
Druk op 'Beperkingen' en activeer de optie door je beperkingencode in te voeren;
Schakel bovenin de functie in en veeg naar beneden totdat je 'Websites' ziet. Tik hierop;
Onder 'Toegestane websites' zie je een aantal opties. Om specifieke websites te blokkeren, dien je voor 'Beperk expliciet materiaal' te kiezen;
Hierna verschijnen onderin beeld twee balken. Eén gebruik je om een toegestane website in te voeren, de ander zorgt ervoor dat specifieke pagina's nooit bezocht kunnen worden. Voer een url in en tik op 'Gereed' om het proces te voltooien.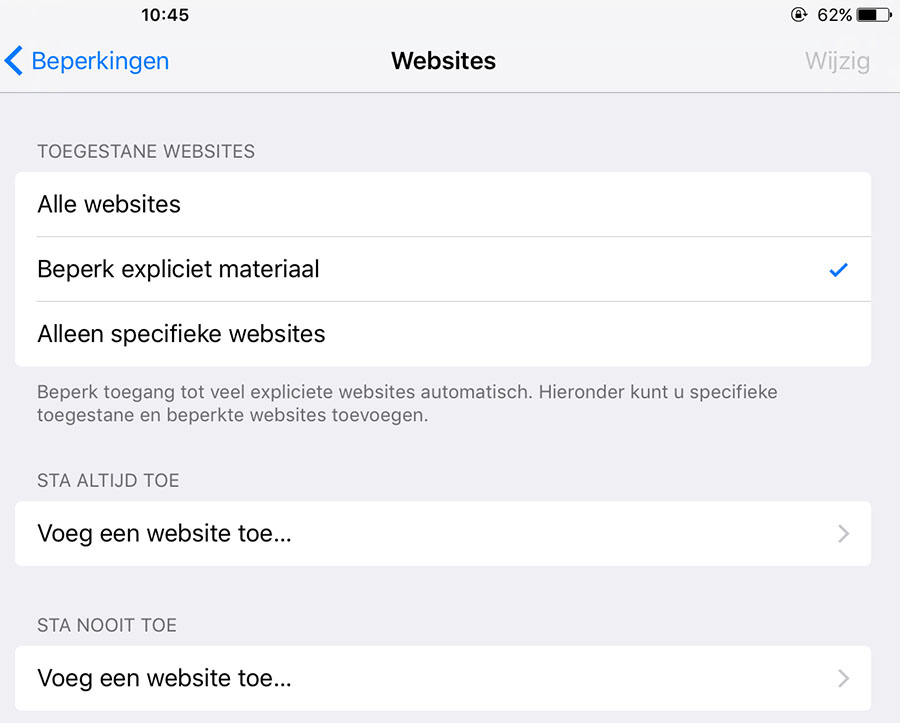 En dat was het! Wanneer je geblokkeerde websites in Safari bezoekt, krijg je de melding 'Toegang tot site beperkt' te zien. Vanuit de browser kun je een pagina weer toestaan via de regel 'Sta website toe'.
Het is overigens ook mogelijk om alle websites te blokkeren en maar een aantal specifieke pagina's toe te staan. Volg hiervoor stap één tot en met drie opnieuw en kies in het menu voor 'Alleen specifieke websites'. Hier kun je een aantal voorgeprogrammeerde sites kiezen, of er een aantal handmatig toevoegen.
Verder lezen: 11 tips voor meer privacy en veiligheid op je iPhone