Vanaf vandaag blokkeert Google Chrome 'vervelende' advertenties op de Mac. We leggen uit hoe deze Google Chrome-adblocker werkt.

Google Chrome adblocker nu op de Mac
De browser van Google gaat vanaf vandaag de strijd aan met irritante reclames die websites op je afvuren. Een speciale filter blokkeert niet alle advertenties, maar alleen degene die een specifieke lijst met richtlijnen schenden. Deze zijn vastgelegd in de Coalition for Better Ads, waar naast Google ook Facebook bij aangesloten is.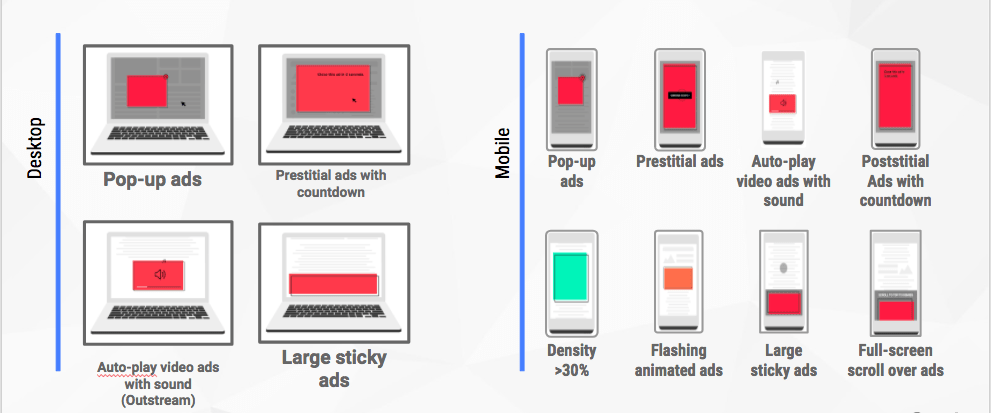 De adblocker in Chrome blokkeert dus geen reclames die gewoon in de tekst van een artikel zijn opgenomen, maar wel de schermvullende reclames die je zo nu en dan ziet. Ook pop-ups, die een advertentie aan je opdringen, worden op deze manier geweerd. Zodra een website niet door Googles filter komt, krijgen ze 30 dagen om het beleid aan te passen.
Omdat Google zelf ook veel geld verdient met advertenties, lijkt het toevoegen van een Chrome-adblocker misschien een gekke keus. Toch heeft het bedrijf er een goede verklaring voor: door deze 'eerlijke filter' uit te brengen, hoopt Google dat gebruikers de strengere adblockers links laten liggen die alle advertenties tegenhouden.
Nog niet beschikbaar op iOS
Eenmaal geïnstalleerd is de adblocker automatisch ingeschakeld. Open je een website met irritante reclame, dan verschijnt onderaan in beeld een melding dat één of meerdere advertenties geblokkeerd worden. Tik je erop om die melding open te klappen, dan kun je aangeven of deze website ook in de toekomst geblokkeerd moet worden.
De filter is vanaf nu beschikbaar op de Mac, Windows, Linux, Android en Chrome OS. De iOS-versie van Google Chrome valt buiten de boot, al is het nog niet duidelijk of de reclamefilter in de toekomst alsnog aan de iPhone-app wordt toegevoegd.
Lees het laatste nieuws over Google