Spotify heeft het homescherm van de iOS-app aangepast. Voortaan zie je na het openen van de app gelijk de afspeellijsten, podcasts en albums die je vaak luistert.
Lees verder na de advertentie.
Nieuw Spotify-homescherm
Na de grote update van vorige maand heeft Spotify nu ook het homescherm van de iOS-app aangepast. Als je Spotify opent, zie je nu bovenaan gelijk zes favorieten: de podcast die je iedere ochtend streamt, de afspeellijst die je onlangs hebt opgezet of dat ene album waar je al weken naar luistert.
De app van de muziekdienst begroet je in de ochtend met 'goedemorgen' en dit verandert ook gedurende de dag naar 'goedemiddag' en 'goedenavond'. Het homescherm laat je niet alleen zien waar je vaak naar luistert: als je naar beneden scrolt, krijg je te zien wat je onlangs hebt afgespeeld.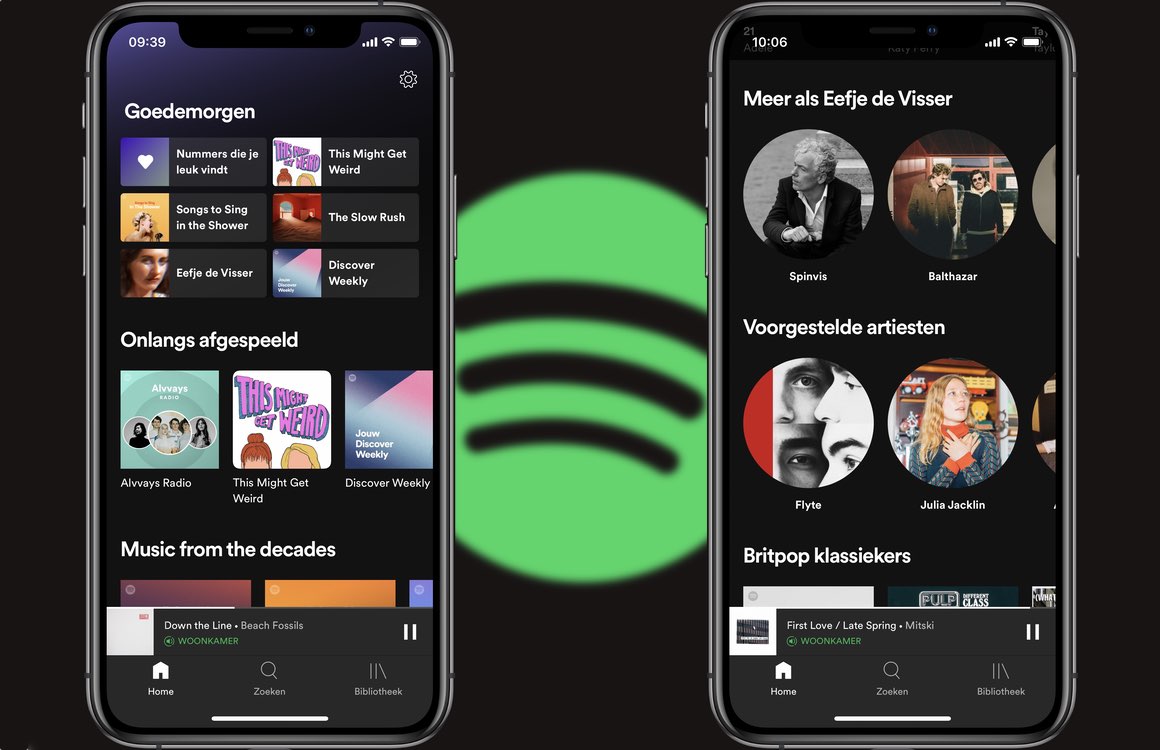 Nieuwe muziek ontdekken
Ben je toe aan iets nieuws? Ook daar helpt Spotify je een handje bij. De app raadt afspeellijsten, albums en artiesten van bepaalde genres aan op basis van waar je naar luistert. Zo worden bijvoorbeeld artiesten en albums aangeraden die lijken op artiesten waar je vaak naar luistert. Zo kan je zomaar eens een nieuwe ontdekking doen.
In een video laat Spotify nog eens zien hoe het nieuwe homescherm werkt. Het is opgedeeld in favorieten, automatisch gegenereerde afspeellijsten op basis van je voorkeuren, en aanraders op basis van populariteit én jouw smaak.
Meer weten over Spotify?
Onlangs werd de iOS-app van Spotify compleet vernieuwd. Er is een nieuwe Shuffle Play-knop toegevoegd, zodat je een afspeellijst gelijk in shuffle afspeelt. Daarnaast zijn er handige actieknoppen toegevoegd en zie je nu altijd een albumhoes bij een nummer.
Wil je meer weten? Op iPhoned lees je regelmatig artikelen over Spotify. Bekijk bijvoorbeeld eens onze handige Spotify-tips, of lees hoe je een slaaptimer gebruikt met Spotify.
Spotify - Muziek en podcasts
Spotify
Het laatste nieuws over Spotify