Google Maps heeft een nieuwe functie die bijna gemaakt lijkt te zijn voor een fietsland als Nederland. Voortaan combineert de app routes met fietsen, lopen en het openbaar vervoer. Dat maakt het makkelijker om van deur tot deur te navigeren.

Google Maps fiets- en ov-routes voortaan gecombineerd
Vanaf je voordeur naar je opleiding of werkplek navigeren kan al jaren met Google Maps, maar tot vandaag werden fietsroutes niet opgenomen in routebeschrijvingen die meerdere voertuigen bevatten. Handig, want vaak geeft Maps je nu een loopbeschrijving waar je toch geen gebruik van maakt omdat je de fiets pakt.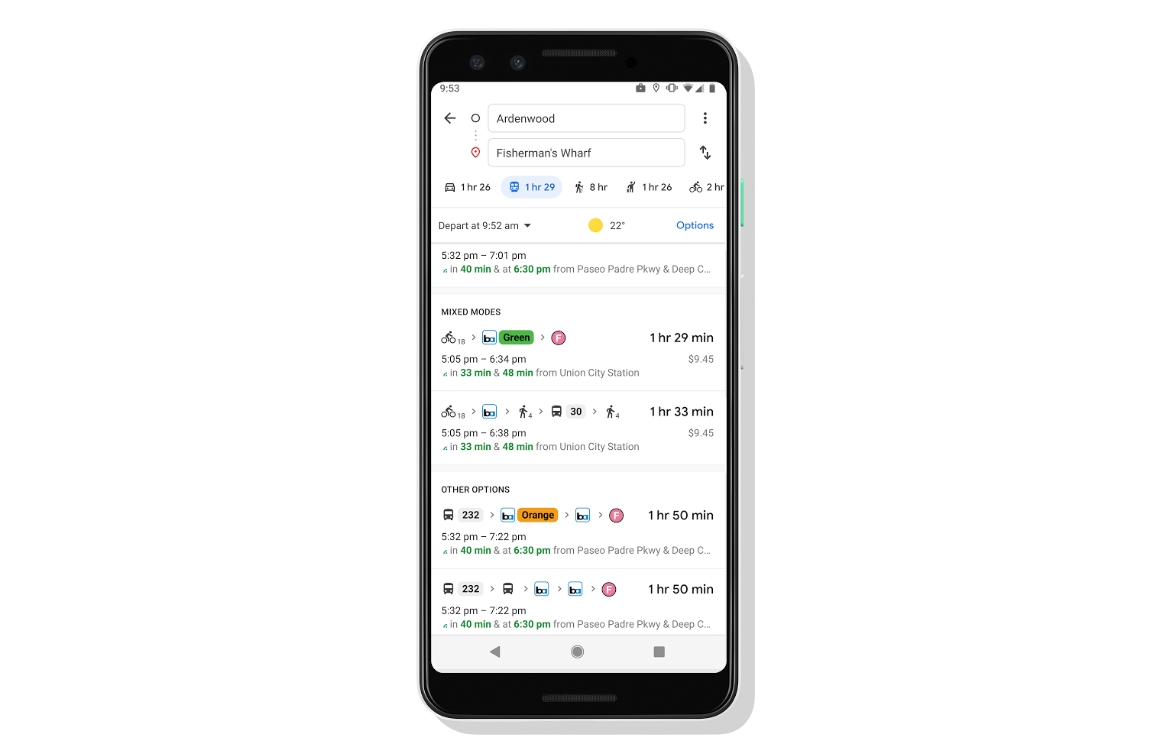 Daar komt vanaf vandaag verandering in met een kleine, maar erg handige update voor de populaire navigatie-app van Google. Voortaan worden fietsroutes en autodeel-apps meegenomen in het samenstellen van de beste route voor jou.
Lees verder na de advertentie.
Navigeer je voortaan van A naar B, dan kan Google bijvoorbeeld eerst een fietsroute naar het station tonen, daarna laten zien welke trein je moet pakken om tot slot de looproute naar je werkplek te geven. De functie werkt als volgt.
Zo werkt de vernieuwde Google Maps routebeschrijving
Open Google Maps en vul een plaats in om naar te navigeren;
Druk op het trein-icoontje voor openbaar vervoer;
Je ziet nu een routebeschrijving die ook fiets- en autodeel-opties meerekent. Als het station volgens Maps zelfs te ver is om te fietsen, kan de app bijvoorbeeld aanraden om een Uber te bestellen, mits deze dienst in dat gebied actief is.
Met gekleurde strepen maakt Google Maps onderscheid tussen de verschillende vervoersmiddelen en fasen van je reis. Dat maakt het overzichtelijk om bijvoorbeeld te zien hoe laat je op het station arriveert en hoe lang je moet wachten tot de trein vertrekt.
Zoals altijd rolt Google deze update geleidelijk uit vanaf vandaag. Het kan dus gebeuren dat je er vandaag mee aan de slag kunt, maar als de optie nog niet in je app verschijnt, zit er niets anders op dan even afwachten. Het is de zoveelste kleine verbetering die Google de afgelopen tijd aan Maps doorvoert. Zo voorspelt de app sinds kort ook hoe druk het is in je trein, bus of metro.
Lees ook: Google Maps Live View: nooit meer verdwalen dankzij augmented reality
Google Maps - verkeer & routes
Google LLC